For many business owners, making a debt collection call is one of the hardest things to do.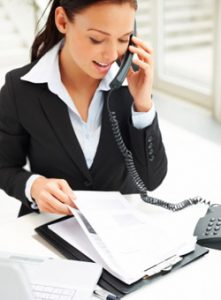 Certainly, there is a good reason for this kind of hesitation. Making debt collection calls is an art. You need to be alert all the time, anticipate what the customer is going to say and at the same time be ready for anything. You have to stay in control of the phone call, and the same time you have to be gentle enough to lead the client to the resolution stage. Making collection calls has clearly some advantages over other collecting methods.
• Phone call is inexpensive – the price of a phone call is undeniably low these days.
• Phone call is immediate – you know where you are standing regarding payment of the account after few minutes of talking to your client.
• Phone call is very personal – allows input from both sides and you can see the client in his human light.
• Phone call is helpful to you – allows you to ask questions and get updated information, and take appropriate action.
• Phone call is flexible – allows you to make adjustments and changes on the spot.
• Phone call is fast – allows you to cover a much larger number of clients quickly.
For your collection call to be successful, it must always result in agreement as to what can be done. Following are some tips on what you can do to improve chances of fast payment.
• Use voice mail messaging if available to get the client on the phone. Most people regularly check their mobile voicemail messages and chances are your message will be heard shortly after you leave  it. Tell   them your name, the company you are calling from, your contact phone number, why are you calling, details of what you want paid and the timeframe for payment.
• Always be polite and professional.
• Pay attention to info you give to the 3rd party – If you speak to a third person, you can tell them you are calling regarding the client's account, but do not mention the word debt or leave details.
• Leave a deadline time to get the payment or hear from them, regardless of whether you speak personally with a client or leave a message on their voicemail.
• Collect extra information for payment of the account: if dealing with another business, get the name of the person in charge of payments.
• Arrange for the best time to call them to follow up.
• Get the name of the 3rd party – If you end up speaking to the third person, not the client you are chasing for payments, get their name and title. Next time you are speaking to the client you have been chasing for debt you can give him details of your last follow up (it is much more believable when you have specifics of that follow up call) If you don't get a call back, ask for that person when you call again.
• Record all call details on a call log / spreadsheet – this is the most important thing to remember when making collection calls.  This is a professional requirement made under debt collecting guidelines and it is an essential helper in monitoring the debt collecting processes.
It might feel uncomfortable at first when you start making your phone calls. If unsure that you will remember all of these important steps, make a reminder list and keep it in front of you when calling. With the practice and increased call volume, over time you will feel much more comfortable. But the real self esteem will kick in when you start collecting your debts. Good luck!