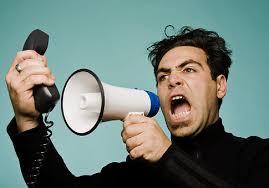 Just because nobody complains doesn't mean all parachutes are perfect.
'Handling customer complaints is an important part of keeping your business healthy and profitable. If you want your customers and clients to come back again you must meet and exceed their expectations consistently. When that doesn't happen you end up with a complaint — if you are lucky.
A typical business hears from only 4% of its dissatisfied customers. The other 96% quietly go away and 91% of those will never return. A complaining customer is trying to help you understand where you failed to satisfy his or her expectation. In the restaurant industry when a customer leaves without expressing a complaint it is referred to as "silent customer's revenge." The owner never knows why the customer was unsatisfied — so there is no way to correct the problem.
A recent customer service study revealed that 68% of dissatisfied customers leave because of an attitude of indifference toward the customer by the business. How are you treating customers? If you are not sure you had better start asking.
You should be thrilled and delighted that your client or customer cares enough about you and your business to take the time to complain. The good news is that 70% of complaining customers will do business with you again if you resolve the complaint in their favor. If you can resolve it instantly, 95% will do business with you again.'